MCAR in the Community
Mountain Central Association of REALTORS® Awarded Placemaking Grant to Help Improve New Meadows Community
New Meadows, Idaho (August 28, 2015) – The Mountain Central Association of REALTORS® has received a $2200 Placemaking micro-grant from the National Association of REALTORS® to help make the New Meadows community a better place to live and work by transforming unused public spaces into vibrant community places.
The grant is intended to help REALTOR® Associations partner with others to plan, organize, implement and maintain placemaking activities in their communities.
The Mountain Central Association of REALTORS® have used the funds to work with the City of New Meadows install three new attractive park benches in the corner of the Dorsey Warr Memorial Park. It was an area that now welcomes visitors and locals enjoying the beautiful green space and facilities of the park. They have partnered with the City of New Meadows on this project who will also provided the resources to install the benches and the funding to maintain them over the years.
"REALTORS® live, work and volunteer in their communities and take immense pride in working to improve them," said (Cory Corbet, Vice President of the board of Mountain Central Association of REALTORS®) "Placemaking can help foster healthier, more social and economically viable communities. It creates places where people feel a strong stake in their neighborhoods and are committed to making things better. This grant will allow us to address areas in our communities that are in need of improvement or redevelopment and create a place where friends and neighbors can come together."
Placemaking grants are awarded to local and state REALTOR®® associations to help them and their members initiate placemaking projects in the community. REALTOR® associations and their REALTOR® members are actively engaged in the community and know the neighborhoods and the properties that would benefit most from these improvement efforts.
"As the New Meadows area becomes more attractive and welcoming, nearby properties may also increase in value," says Corbet.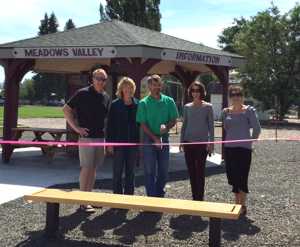 ---
While our members are individually very involved in their respective communities, as seen in our Community Support section, we are also involved as a Board. Some of our past efforts have been purchasing Christmas gifts for disadvantaged children and challenge grants for the building of Kelly's Whitewater Park in Cascade and the Heartland Hunger Resources building in McCall. Since the economic downturn the MCAR Board of Directors has donated $5000 annually to the food banks in Riggins, New Meadows, McCall, Donnelly and Cascade.
| | |
| --- | --- |
| Pictured are 2012 President Susan Ulrich, agent and Heartland Hunger board member Dave Holland and 2014 President Marletta Romero | 2013 President Pat Hill, 2012 President Susan Ulrich, agent Dave Holland, 2014 President Marletta Romero and MCAR Treasurer Diane Wiegand. |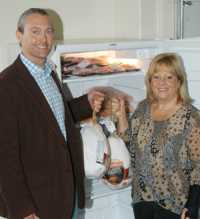 Star-News Photo by Tom Grote
FREEZER AND FOOD - Jim Bates, Vice President and Valley and Boise County Manager of First American Title Co., and Marletta Romero, president of the Mountain Central Association of Realtors, prepare to load turkeys into a freezer at the new home of the Heartland Hunger Resource Center on Deinhard Lane in McCall. The Realtors association purchased the freezer for the food bank and First American Title donated $1,000 to buy food to fill the freezer.
--
Tom Grote, Editor & Publisher
The Star-News